New year, new projects
Happy new year guys! I know, I know. Its a little bit late to be saying that, but I've been busy making up resolutions and you know…other stuff. Oh, and painting! Oh my gosh, you have GOT to check this out!
| | |
| --- | --- |
| So I discovered gold leaf. And its amazing! I decided to put it around my sharp, cunning and glorious Warrior Princess who definitely wouldn't mind the gilded background. | She may be deadly, but she is quite arrogant and proud. It was a perfect match with her pale gold eyes and contrasts wonderfully with the black armor and hair. |
---
Commission Work
I also finished a large (4′ x 4′) oil painting on canvas of a beautiful little bird called Blameis, or Blue tit. Its for a Norwegian client who remembered it from winters in Norway. The painting is like the opposite of a miniature, the bird almost as big as a 1 year old baby. So cool!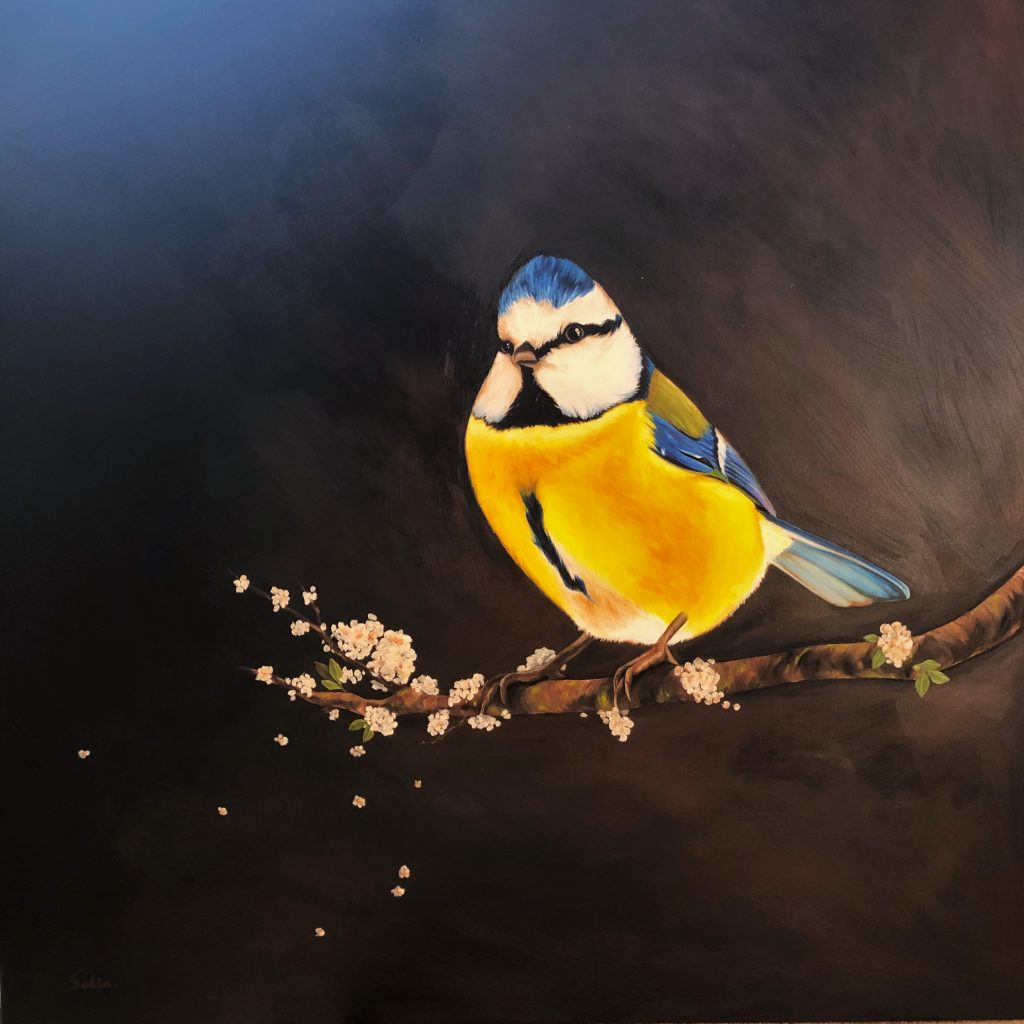 ---
Artwork showing in Gallery
I have a new painting up at Parklane Gallery in Kirkland, now. Its pretty much the best conversation starter piece I have. I love how everyone has a completely different take on what is happening here. The painting is called 'Faith'. If you happen to be in Kirkland, check it out!
---
Upcoming events
Some of you might have seen pieces from my new mini collection, 'Modern Times', through my social media feed. Now that they're all varnished and framed, next step is to put them up for display. I'll be whipping these out in the summers (will update you guys on the venue soon). In the mean time, you can check them out on my website!
---
Upgraded Website
Last but not least, I now have a fully functioning, updated/upgraded website! You can now explore and buy paintings and prints directly from my site!

Overall the new year definitely started with a bang, and has kept me busy. I've got more stuff in the pipeline brewing, and I'm totally excited to share it all with you guys! Keep a look out for next month's newsletter!
In the meantime, wishing you all a year full of prosperity, happiness, personal growth and health! xx